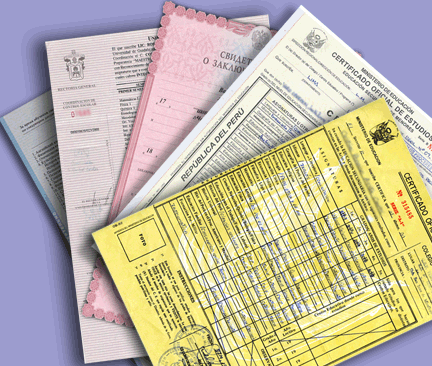 Translation of Academic Documents: Diplomas, Degrees, Transcripts and Certificates of Completion
For immigration purposes, enrollment in a university, or to present to a prospective employer, the translation of academic documents is something not to be left to the inexperienced. The Accurate Translator, LLC has years of experience and expertise in translating all types of educational documents. Our dedication to quality ensures not only an accurate translation, but a translated document with a comparative resemblance to the original format and style. This allows a side-by-side comparison of the original and translated document demonstrating quality and thoroughness. Most importantly, we make sure the translation does not create additional questions through inaccurate interpretations or poorly worded expressions with no cultural equivalent reference.
Professional Academic Evaluation: Determination of U.S. Educational Equivalency
Due to the different educational systems throughout the world, it may be necessary to have your translated academic credentials professionally evaluated. This step not only ensures the reader that the documents are authentic, but also that there is a U.S. equivalency with these credentials for individual courses, degrees, and diplomas. Professional Evaluation is usually a mandatory process when documents are requested from a university registrars office, licensure board, and at times, even an employer.

The Accurate Translator, LLC works closely with Career Consulting International for all educational documents requiring professional evaluation. Please feel free to contact Career Consulting International to obtain a quote on the evaluation of your translated credentials.



Services provided by CCI include:
Foreign Credential Evaluations
Immigration Visas (H1-B, I-140, TN)
Difficult Immigration Cases (3 Year Degree, RFE's, Denials, Change of Major etc.)
Expert Opinion Letters
Employment
University Admissions
Rush Services Available
Original Documents Not Required
Low Price Guarantee
CCI is a member of, through its director: AEA (The American Evaluation Association www.eval.org), NAFSA (Association of International Educators www.NAFSA.org) and EAIE (European Association for International Education www.EAIE.org).
How much does it cost for a transcript or diploma translation? How do I make payment?
These prices are for marriage and birth certificates or licenses, death certificates, divorce decrees and rulings, diplomas, high school transcripts, college transcripts, police records and background checks: Final price will be determined based on overall complexity and length.
One page, one side - Spanish - English -from $65 - $75
- Additional pages / sides from $20 - $45
One page, one side - other language pairs - from: $80 - $105
- Additional pages / sides from $25 - $65
First class USPS mail - Included - no additional charge
Certification / Notary fee. $3.00 for each page / side
Additional notarized sets - $3.00 per notarized page - with original order only.
Rush service. Document completion of less than 36 hours: $35.00 additional
Overnight delivery: Actual Cost - Approximately $30.00
Digital storage of translated document for 3 years - free
Reprints AFTER INITIAL ORDER and additional notarized copies: $10.00 for the first notarized page, $3.00 for each subsequent notarized page. Price includes first class postage.
Final price is determined after viewing your documents and subsequently, a link to an online invoice will be sent to you by e-mail through PayPal business services. Making payment through PayPal does not require any type of membership and is treated like any other online payment.
I'm ready to have my document translated, what now? Do you need the original document?
No. We do not require an original document to commence the translation since that may be required to accompany the translation.

In order for us to commence, scan a copy of the document and e-mail it to us. If you wish to send it by fax, please do so and fax to our "fax to e-mail" system at 1-206-337-2559. Please be sure to include in your e-mail or fax cover page the following information: your e-mail address, phone number, address, date by which you wish to have the completed document in hand, and street address of where to mail the finished copy. After sending us this information, within 24 hours, you will have an e-mail confirmation as well as an invoice that will direct you where to make payment.